New Cisco Wireless Courses Topic Review
By Andrew Stibbards | 6 Min. Read | Technical Level: Beginner
In my last wireless blog, I went over the update to Cisco's training curriculum and certification requirements. You can find that blog here. Now, I would like to dig a little deeper into the two courses, Designing Cisco Enterprise Wireless Networks (ENWLSD) and Implementing Cisco Enterprise Wireless Networks (ENWLSI), so you can better choose which course suits your needs. Ideally, you would attend both classes. But when budgets are tight and you can't be away from work for multiple weeks, you need to identify which course is best for your needs.
Let's start with ENWLSD. This class has more introductory material, foundational topics that are applicable to any wireless network. Let's dive in.
Wireless Site Survey
This topic focuses on the physical nature of wireless networking. When you have many clients, all with latency-critical applications in a constrained area using the same radio frequencies, how does that affect their throughput? When deploying a Wireless LAN (WLAN), how do walls, doors, windows, water features, and other obstacles affect signal strength and propagation? This topic also covers the lifecycle of Wi-Fi deployments, the predictive, pre-, and post-deployment surveys to be aware of your environment. It covers several vendor tools that can be used in these tasks.

Wired and Wireless Infrastructure
First, this covers physical requirements, such as PoE, cabling, antenna placement, and grounding. It also covers logical requirements, such as licensing and access/trunk port configuration. This topic starts to enter the design of wireless networks, covering tools such as Radio Resource Management (RRM) and Received Start Of Packet Threshold (RxSOP). These are tools we can use to optimize a regular or high-density client deployment. It also covers the differences between data traffic and voice/video traffic in the WLAN, as well as location and hyperlocation services. Device profiling and tracking are becoming more common in WLANs. It finishes with some of the options for AP modes in deployment.
Mobility
I tell my students, "whenever you hear about mobility in a WLAN, think roaming". Roaming is the act of a wireless client moving to a new AP or to a new AP that is associated with a different controller. This is a common situation when you have multiple APs. This topic covers designing, optimizing, and verifying roaming situations in a WLAN.
WLAN High Availability
The concept of high availability is planning for downtime. Due to either scheduled maintenance or unexpected problems, we lose links, or Access Points (APs), or Wireless Lan Controllers (WLCs). So how do you plan for this? This topic covers Link Aggregation (LAG), sometimes also called port-bundling, for link redundancy. It covers anchor controller and AP prioritization, options to make sure your AP never loses its connection to a controller. Another topic is controller redundancy with N+1 models and Stateful Switchover (SSO). The N+1 model involves purchasing additional controllers for failover, whereas SSO puts two controllers into a high availability pair, sometimes called a primary/backup pair.
This is a more advanced course than ENWLSD. It introduces more advanced options and builds on some of the topics introduced in ENWLSD. Let's go.
FlexConnect
A FlexConnect deployment involves having a WLC in one central location, such as a data center or headquarters, and APs at multiple remote locations. You still get the benefit of the WLC intelligence and centralized management without needing to deploy a WLC at every physical location. This topic covers basic implementation, as well as some optimization features. FlexConnect covers Office Extend deployments, when an AP is at home or a small branch office, and some of the different options there.
QoS on a Wireless Network
Quality of Service (QoS) involves the identification, marking, and special handling of different types of traffic through your network, especially when there is congestion. This is especially important for Wi-Fi, as we usually have multiple devices transmitting different types of traffic through one AP and receiving responses. This topic covers how to configure and verify basic QoS, as well as Application Visibility and Control (AVC). AVC involves identifying traffic based on Layer 4 through Layer 7 identifiers, not just classic Layer 2 and 3 markings.
Multicast
Multicast traffic, whether for data or voice/video traffic, can work well on our wired networks, but break when pushing it wireless clients. This is due to multicast streams requiring constant bandwidth as well as airtime to work well. This topic covers how to implement and optimize for multicast traffic in a WLAN.
Location Services (Basic)
A good portion of Wi-Fi implementation and troubleshooting involves identifying the physical location of the devices you are working on. This is used to identify rogue device location so we can mitigate interference or attack traffic, as well as locate valid client devices for client tracking and troubleshooting connectivity issues. Some of the tools this topic uses for this include the Mobility Services Engine (MSE) and the Connected Mobile Experiences (CMX).
Advanced Location Services
The Advanced Location Services topic dives deeper into CMX components. This tool allows you to serve location-specific advertisements, guest onboarding experiences, and analytics. This also covers segmentation options such as VLANs, QoS, and ACLs.
Security for Wireless Client Connectivity
This topic covers multiple options for the secure client and guest connectivity. Since networks today are expected to provide guest access to wireless, we need to make sure we are identifying and segmenting that traffic. This covers client profiling using the WLC or the Identity Services Engine (ISE) and implementing 802.1x and AAA in different deployments. Integrating with CMX, it also covers ACLs, QoS, and ACLs.
Monitoring
Staying aware of the changing wireless landscape is critical but has more interesting challenges than wired networking. Your WLAN could be affected not by anything you did, but by changes made in a neighbor's WLAN. This topic looks at three primary concerns: alarms and rogues, radio frequency (RF) interferers, and troubleshooting client connectivity. It covers using multiple tools to investigate these issues, including using the WLC, ISE, Prime Infrastructure (PI) and Cisco Digital Network Architecture (DNA).
Device Hardening
Finally, this course covers securing your APs and WLCs. This includes using AAA protocols for access into the WLC and APs, using 802.1x to verify which APs are authorized to participate in your WLAN and using CPU ACLs to protect the control plane on your WLC. Not one of these options secures our hardware but using them all secures against most basic attacks.
In my opinion, based on the topics, ENWLSD is better positioned for someone who is new to the world of wireless technology or for someone who is updating an existing wireless network and needs to know about the tools and processes to assist them. ENWLSI's topics would be more helpful to an administrator of an existing wireless network, especially a medium to larger wireless network, and is involved in the day-to-day monitoring and troubleshooting of special deployment options. ENWLSI could also be taken in preparation for deploying some of those options. I would not recommend taking ENWLSI as your introduction to WLANs.
As I mentioned in the last blog, you can pass either the ENWLSI exam or the ENWLSD exam to earn a Cisco Wireless Specialization. If you pass the Implementing Cisco Enterprise Network Core Technologies (ENCOR) exam and one of the two wireless exams, you will earn the CCNP Enterprise Certification. No need to pass both wireless courses exams to earn the CCNP certification, but you can absolutely take both courses to round out your knowledge.
Hope to see you in class!
Andrew Stibbards
Instructor Bio: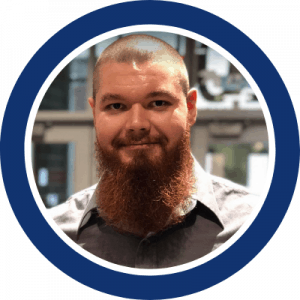 Andrew Stibbards studied at Northern Virginia Community College from 2007-2011, where he studied Computer Science and English. Afterward, he worked in the DC-Metro area providing network and user support to over 30 companies. He was responsible for user support, maintenance, design, and implementation. After being hired by Sunset Learning in early 2013, he received his training under the supervision of the SLI instructors. He has experience with installation, configuring, operating and troubleshooting medium-sized route and switched networks. Andrew teaches all courses in the CCNA and CCNP Routing and Switching track, and the CCNA Wireless and Security. He also teaches on deployment tactics for basic and advanced wireless networks.

Tags: Certification, Wireless