Implementing Data Center Switching Protocols
By Tuan Nguyen | 80 Min Video
Support high availability within a Layer 2 domain, switches are normally interconnected using redundant links, while computing nodes have dual-homed connection to the switches. This session will cover the spanning tree protocol (STP) that builds a loop-free logical topology when you have redundant paths in the network. It also covers port channels and virtual port-channels (vPCs) that bind several interfaces to provide fault-tolerance and high-speed links between switches, routers, and computing nodes.
Key Topics:
Rapid PVST+ Overview – 0:44

Security STP Edge Port with BPDU Guard – 19:28

Disabling STP with BPDU Filter – 24:16

Protecting STP Topology with Root Guard – 27:11

Problem with Unidirectional Links – 31:13

Protecting Against Loops – 36:10

Port Channels – 38:39

Port Channels and LACP – 46:39

Port-Channel Load Balancing – 50:01

Virtual Port Channels – 52:09

vPC Building Blocks – 58:29

vPC at Multiple Layers – 1:10:14

vPC Peer-Gateway – 1:12:24

vPC Peer-Switch – 1:15:53
Want to see more videos like this? Check out our YouTube channel.
View our Data Center courses.
Instructor Bio: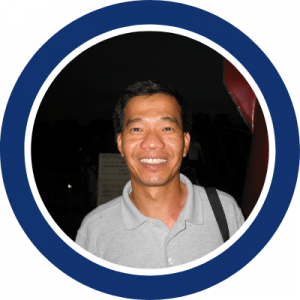 Tuan Nguyen has over 20 years of experience as a consultant, systems engineer, and Certified Cisco Systems Instructor. He specializes in Cisco routers and Cisco Internetworking Operating Systems (IOS). Mr. Nguyen also has extensive knowledge in all aspects of Local Area Network (LAN), and Wide Area Network (WAN) technologies, including design, implementation and support of Cisco IP Unified Communication, IP Multicasting, Multiprotocol Label Switching (MPLS), Frame Relay, Routing and Switching, Cisco Internetwork Service Provider (ISP), and Cisco Security. 

Prior to joining SLI, Tuan was the Senior Internetwork Engineer and Cisco technical instructor at TBN Consulting, providing technical design and configuration services including OSPF, HSRP protocols, Frame Relay, Multicasting and QoS for large financial institutions, and SPAWAR Systems Center. Tuan also worked as a Senior Network Engineer at the Defense Information Systems Agency (DISA) designing, developing, testing and evaluating Fiber Distributed Data Interface (FDDI) and ATM backbone networks using Cisco routers and switches, Cabletron switches and hubs. 

Tags: Cisco Data Center, Tech Talk Webinar