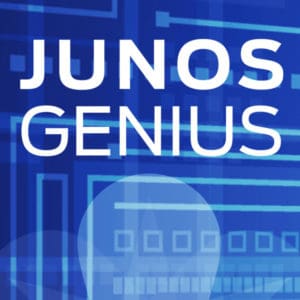 Preparing for a Juniper certification?  Junos Genius is the perfect learning platform to ensure you are confident going into your next exam!
---
Junos Genius in included for FREE in our neXT Live 365 Juniper Package!
---
The Junos Genius mobile learning platform helps you learn Juniper technologies and prepare for Juniper certification exams on your schedule. An app for iOS and Android devices, along with laptops and desktops, Junos Genius provides certification preparation resources, practice exams, and e-learning courses developed by experts in Juniper technology. Courses cover automation, routing, switching, security, and more.
Features:
Unlimited access to all hardware overview and deployment courses and dozens of Juniper Learning Bytes
65-item practice tests written by subject matter experts
Benefits:
Access the platform at your convenience, any time and anywhere.
Use any device—Junos Genius runs on your smartphone, tablet, or other mobile device as well as your desktop or laptop.
Receive ongoing training opportunities as new content is regularly added
Prepare for multiple associate, specialist, and professional-level JNCP certification exams.
Resume courses where you left off with no interruptions.
View on-demand training courses (purchased separately)
Practice Tests For:
JNCIA-Junos
JNCIS-ENT
JNCIS-SP
JNCIS-Cloud
JNCIS-SEC
JNCIP-DC
JNCIP-ENT
JNCIP-SEC
JNCIP-SP