CompTIA certifications, which are developed by IT professionals, validate skills and competencies needed for identified job roles. CompTIA has four IT certification series that test different knowledge standards – from entry-level to expert.
Top Reasons To Get CompTIA Certified Right Now
Learners/Professionals
CompTIA certifications are the best way to future-proof a career in the IT industry. Certifications validate the knowledge and skills required by employers to ensure their staff can get the job done.
Enterprise/Employer
IT pros need to keep their skills current in a constantly evolving industry. CompTIA certifications ensure skills meet the needs of the industry and organization. Save time and resources by using certifications to evaluate candidates. Feel confident that your staff has the competencies to get the job done.
Government
The certifications below are updated regularly and aligned to NICE Workforce Framework. Government employees can verify their cyber knowledge and skills and fulfill government directives like FISMA and DoD 8570/8140.
Click a CompTIA certification badge to see recommended Instructor-Led training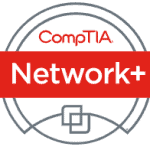 CompTIA Network+ validates the technical skills needed to securely establish, maintain and troubleshoot the essential networks that businesses rely on. The new CompTIA Network+ focuses on foundational networking tools and technologies used to create secure networks and guarantee the availability of critical business information.