neXT LIVE 365 Community Demo Video
Don't have a login but want to create one? Let us know!
Features of the neXT LIVE 365 Community
The neXT LIVE 365 Community is SLI's premier learning portal filled with valuable resources built with one goal in mind – to help you succeed!  The community is driven by YOU, and monitored daily by SLI instructors and SME's to answer questions you may have, and keep you up-to-date on the latest industry trends.  Each community member receives their own unique username and password, and access to the below features: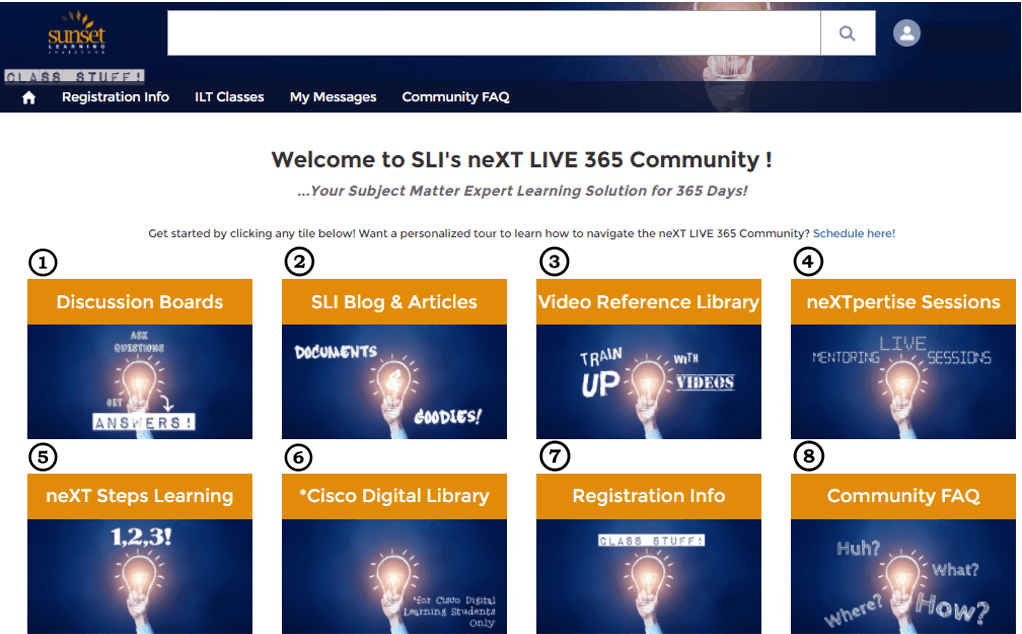 1.) Discussion Boards
Driven by our community members where our 10+ authorized instructors are answering your questions!
2.) SLI Blogs and Articles
Continually growing set of resources for your reference!
3.) Video Reference Library
Hundreds of recorded ILT courses and neXTpertise sessions (searchable, on-demand, available 24×7). The recorded material is not limited to ONE class, it includes recordings across multiple classes for one technology area. Customizable training paths to fit your needs!
Example Video from our VRL: Configuring a Router (ICND1)
4) neXTpertise Sessions
Virtual, interactive sessions for customers and instructors & SME's to engage on a variety of topics (industry updates, version upgrades, open Q&A sessions, exam prep, etc.)
5.) neXT Steps Learning coming soon!
6.) Cisco eLearning Library
Interactive, e-learning offerings made for learners who prefer self-study.
7.) Registration Info

Registration and e-kit information for your ILT courses
Includes a list of all instructor-led courses attended at Sunset Learning Institute (past, present, and future registrations)
8.) Community FAQ
Common questions about the neXT LIVE 365 Community, answered!
Still have questions?  Contact SLI to find out more!