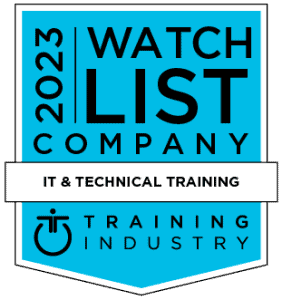 November 9, 2023 – Sunset Learning Institute (SLI) has been selected to be part of Training Industry's "IT & Technical Training Watch List Company" for the fourth consecutive year. Selection to the 2023 Training Industry Top IT & Technical Training Companies lists was based on the following criteria:
Breadth and quality of program and service offerings.

Industry visibility, innovation, and impact in the IT and technical training market.

Client and user representation.

Business performance and growth.
The list aims to better inform professionals about the best and most innovative training services and technology providers.
"The companies chosen for this year's IT & Technical Training Watch List provide a breadth and quality of service and programs, ensuring that learners receive up-to-date content with a range of modality offerings so learners can work self-paced or with live instruction," said Tom Whelan, director of corporate research at Training Industry, Inc. "This list is made up of providers who have a wide set of vendor offerings such as Cisco, IBM, VMWare, AWS, Microsoft and more.," 
Please visit the Training Industry website for more information on the IT Training Companies Watch List. This is Sunset Learning Institute's fifth time being recognized, the first time being in 2011.