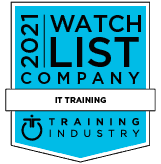 October 28, 2021 – For the second consecutive year, Sunset Learning Institute (SLI) has been selected to be part of Training Industry's "IT Training Companies Watch List". Each year, after thorough evaluation of companies across the world, Training Industry puts out a new selection of IT training companies based on the following criteria:
Breadth and quality of program and services

Ability to deliver training in various modalities
Industry visibility, innovation and impact in the IT and technical training market
Strength of clients and geographic reach
Company size and growth potential
The purpose of the list is to better inform professionals about the best and most innovative providers of training services and technologies.
"The companies on this year's IT Training Watch List provide a breadth of services and program offerings, ensuring learners have the skills they need for their organization's IT challenges," said Danielle Draewell, market research analyst at Training Industry, Inc. "These companies upskill and reskill employees on popular topics such as cybersecurity, cloud computing, data analysis and more to meet the demand of the learners in an ever-evolving market."
For more information on the IT Training Companies Watch List, please visit the 
Training Industry website
. This is Sunset Learning Institute's third time being recognized, the first time being in 2011.