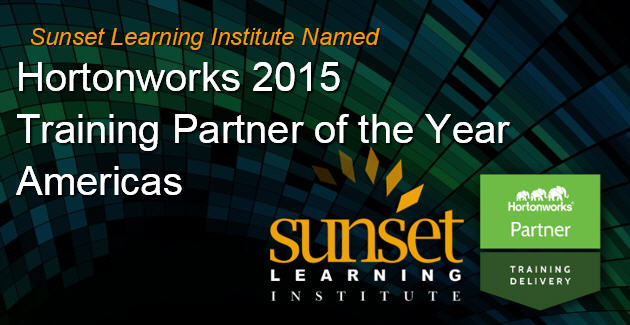 April 2016 – Sunset Learning Institute (SLI) was named the 2015 Training Partner of the Year from Hortonworks. The selection was primarily based on survey results from actual students after attending any authorized Hortonworks training sessions.
Sunset Learning Institute has been delivering and developing authorized technical training for over 20 years and in 2014 began providing authorized Hortonworks training, leveraging its proprietary High Definition Instructor Led Training Platform (HD-ILT).
Hortonworks is the only 100-percent open source software provider to develop, distribute and support an Apache Hadoop platform explicitly architected, built and tested for enterprise-grade deployments. Sunset Learning Institute is thrilled to be the largest provider of Authorized Hortonworks Training.
"Hortonworks is delighted to honor Sunset Learning Institute with our 2015 Training Partner of the Year Americas Award. We thank Sunset for their world-class training services delivered on behalf of Hortonworks and look forward to another great year of partnership in 2016." Alex Alwin, Sr. Manager, Hortonworks Training Partner Programs.
Sunset Learning Institute CEO, Rick Morgan, "We are pleased to accept Hortonwork's Training Partner of the Year Award. This award is a testament to the hard work and dedication that our team contributes each and every day, striving to provide the best learning experience for SLI and Hortonwork's mutual customers. We are honored to be recognized by Hortonworks for these achievements."
In early 2016 Hortonworks developed five new courses, now available at Sunset Learning Institute, continuing their commitment to provide relevant content and to grow industry skill-sets.
About Sunset Learning Institute
Sunset Learning Institute (SLI) has been an innovative leader in developing and delivering authorized technical training since 1996. Our goal is to help our customers optimize their cloud technology investments by providing convenient, high quality technical training that our customers can rely on. We empower students to master their desired technologies for their unique environments.
By offering both off-the-shelf courses and customized training solutions, Sunset Learning Institute is able to help technical professionals meet their career and certification goals. To ensure we understand our client's business needs from the start, our account managers take the time to collaborate with each customer through a comprehensive consultative approach. By recommending the optimal training path, our customers have increased job performance and maximized return on their training investments.