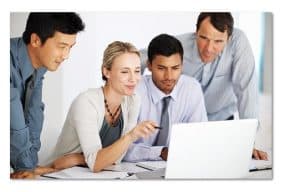 Effective, Interactive, Flexible!
If traditional classroom training is not for you, check out our neXT Digital Learning Packages. Attend training on your own schedule with the ease of e-learning! The self-study courses available directly align with Cisco certifications.  
In addition to the self-study courses, you will get access to SLI's  learning community with resources including our video reference library, discussion groups, and quarterly coaching sessions!
neXT DIGITAL Learning Packages:
Traditional ILT vs SLI's neXT Digital Learning
| | | |
| --- | --- | --- |
|   | Traditional Instructor-Led Training | neXT DIGITAL Learning |
| Price | Average $3,700 | $3,495 – $5,995 |
| Length of Service | 1 – 5 days | 1 year of access to resources |
| E-Learning Courses |   | X |
| SLI's Video Reference Library (VRL) |   | X |
| Access to SLI's Discussion Groups |   | X |
| Instructor & SME Coaching Sessions |   | X |
| Searchable Glossary and Transcripts |   | X |
| 24×7 Access to Resources |   | X |
| Bookmark and Annotation Tools |   | X |
| Analytics to Track Progress |   | X |
| Graded Challenge Assignments |   | X |
| Gamification with Leaderboards |   | X |
| Full Student Guide Textbook |   | X |
| Discovery Labs with Shareable Recordings |   | X |
| Certificate of Completion |   | X |
Cisco Digital Learning Library Introduction