How to Use Cisco Platinum Learning Library (CPLL)
By Andrew Stibbards | 6 Min Read + 10 Min Video | Technical Level: Beginner
In this video, Andrew will give you a quick introduction on how to get the most out of your Cisco Platinum Learning Library (CPLL). The CPLL is an online database full of Cisco courses, books, videos, and labs. With an abundance of resources, we want to show you how to use this tool.
Key Topics:
Initial Email – 0:50

Login to CPLL – 1:19

Locate Course – 1:44

Course Review and Launch – 2:36

Using CPLL – 3:18

Table of Contents & Lab Listing- 6:03

Initializing a Lab – 7:05

Using the CPLL Labs – 8:38
Find more videos like this on our YouTube channel.
View our current course discounts.
Today, we're going to be reviewing how to use the Cisco Platinum Learning Library and how to use the content and the courses within it. There were some updates in August of 2020 so we wanted to make sure you are all aware of how to continue to use this tool.
Initial Email
First off, starting from the beginning, we will, of course, look for an initial email whether you purchase access to a digital course yourself or you're working through a Cisco learning partner. Once you've been granted access to the course, you'll probably see that email show up with the course name and the login button. If you click that login button, that will redirect you to the digital learning website or once you've made your purchase or again, you're working with the learning partner, you can just browse directly to digital-learning.cisco.com. 
Log into CPLL
Once you go to that website, this is where a lot of the new changes show up. Cisco's redone a lot of the graphics here and you can look at a lot of the trending current courses, as well as search the Platinum Learning Library to see if there are any courses that you're looking for and see if they're already in there. But for most of us, we want to get into the actual content. On the top right, hit that login button. It'll prompt you with this little pop-up saying, "are you sure you want to log in?" Say, "yes." We'll log in with our Cisco account. 
Locate Course
Now, once you've logged in, you'll see your profile there and you'll see the current open courses. This is a course that you are currently accessing so you can quickly resume a course. If you're using CPLL through a five-day class or you're doing your own self-study, you can just quickly click on one of those open courses and jump back in. Of course, you still see your trending topics there in the bottom left. However, if you don't see the course that you want to jump into or maybe this is your first time, it might not show up there. So what you can do, is you can click on "My Learning" right in the middle, and then under courses, you'll see the courses that are associated with your profile. If you just recently made a purchase working with Cisco or with a learning partner, it may take a couple of days – usually around at least 24 hours for that to process through so if you don't see any courses show up right away, just give that time to process. If it takes longer than 24 hours, you would talk to your support person. That's how we find our course. We go to my learning courses or maybe it's an open course so we click on it, and that takes us to our course summary.
Using CPLL
Here, you still haven't launched the course yet. You're still looking at the duration, the prerequisites, the lab outline, and gives you the high-level information. When we click that launch course button, that takes you into the course content. Now, nothing's changed here. If anyone's used the Platinum Learning Library before, all that was changed was the website, how to access, how to log in, and how to launch the course. Anybody who's used the learning library before, from here on out it's all still the same. 
Just as a quick little review using the Cisco Platinum Learning Library. When you first log in, immediately you are in the digital book. In the top right, you've got your navigation buttons, paging forward, paging back, you can search not just the page search but the entire book for any keywords or phrases. In the top left, you've got those three lines with an arrow that opens your course menu. That's how you're going to do most of your navigation. Of course, you can bookmark any pages or put in help for Cisco. 
The get help button is also how you can request help but also leave feedback or notes if you see any typos in there. Opening the course menu, of course, you have your table of contents to go through and quickly find any chapters that you want to jump to or find a specific topic. You've got your bookmarks tab so you can jump to any pages that you've bookmarked earlier. For the medals and achievements, that's where when you complete a section, lab, task, etc. (there are various metals and achievements you can earn as you go through the content). There's also a leaderboard where you can compare yourself to other users of this course. 
Next, we have the lab listing button. We'll click that to jump to our labs. Labs are spaced throughout the book, but you can jump to a specific lab if you wanted to. There's another example of the table of contents. If you wanted to jump to a specific or topic. Under the lab listing, you can see a list of all the labs. You can jump to a lab that you want to practice on. Maybe getting ready for an exam or you're about to have an implementation. We'll select a lab and then we'll tell it to initialize. This spins up either the virtual or sometimes hardware resources, depends upon the course. It'll initialize and get the lab ready for you. Once it is fully initialized, you'll have 10 minutes to actually launch to go into the lab. Otherwise, the resources will be given away to someone else so don't go away for too long. Don't step away from the computer for too long when you're initializing a lab. 
Using the CPLL Labs
Once you get into a lab, on the right-hand side, you have your CLI. You have a couple of tabs on the top there to change between the different devices, look at the overall scenario, and the lab topology. You can see the visualization of what devices you're working on. On the left-hand side, you've got your lab steps. If you want a detailed walkthrough, you can click that "show me" button and it shows you an example of doing that step. It's very helpful, especially if it's something you've never configured before. 
Instructor Bio: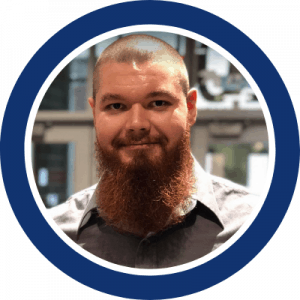 Andrew Stibbards studied at Northern Virginia Community College from 2007-2011, where he studied Computer Science and English. Afterward, he worked in the DC-Metro area providing network and user support to over 30 companies. He was responsible for user support, maintenance, design, and implementation. After being hired by Sunset Learning in early 2013, he received his training under the supervision of the SLI instructors. He has experience with installation, configuring, operating, and troubleshooting medium-size route and switched networks. Andrew teaches all courses in the CCNA and CCNP Routing and Switching track, as well as the CCNA Wireless and Security. He also teaches on deployment tactics for basic and advanced wireless networks.

Tags: Certification, Tech Talk Webinar